Live Roulette
Just a few years ago, only very few online casinos offered live casino with live dealers. Nowadays, respectable casinos will allow you to play roulette online with a live dealer, and Genesis Casino is no different. Learn more about live roulette game play by reading this article.
Play Roulette Live Casino
If you miss the atmosphere of a traditional offline casino, then you only need to head to the live casino section of this Indian online casino, where you'll find plenty of table games which you can play with a live dealer and other players. This is a truly immersive experience where you play from the comfort of your home, with a real Live Casino in front of you on your laptop or mobile screen. And of course, the King of Casino, roulette, is also available to be played online.
You can play with different, higher betting ranges in live casinos, and there is surely a bigger choice of tables to play at than in a physical casino. You will also find bonuses to play at live casino at Genesis Casino, unlike at real casinos. Another huge advantage is that you can play at any time and from any where, with mobile apps or casinos offering the same immersive experience to players.
All the above advantages should be enough to convince that playing live roulette online is as much fun, if not better than, playing it at a traditional casino. You can choose different camera angles too, use the livechat functions, and sometimes interact with other players too.
Every individual live roulette table offers its own particular features too – you will notice the high-quality video and software, and while this doesn't necessarily mean you will win or lose more, they guarantee a better experience. More often than not, the quality of these games depends on the game provider. Find a table according to your budget and you're ready to go!
Do you know the rules of roulette? Have you ever played it in real life? It's not too difficult to understand. There are two different betting sections in a roulette table: the long one is for inside bets, while the wide one is for outside bets. Above that, there's the all important wheel and the dealer, whose task is to spin the wheel, drop the white ball, see in which pocket it lands and call the winning bet. In most live casino games, you'll see the dealer at work on a real table, taking the players' bets using real chips with the wheel spinning live, in real time. Other tables may feature a virtual betting table with only a real dealer and wheel.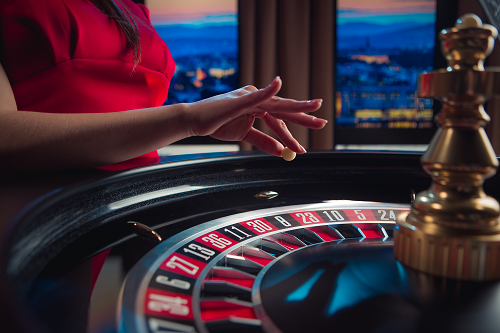 From Evolution alone, you can play on the European and American Roulette table variants, the former with 37 pockets and a single "zero", the second with an extra "zero" pocket (and a bigger advantage for the house). If you prefer a challenge, you'll go for the American version; players after better odds will go for the European version.
Playing is simple – see how much you want to bet, and watch as the live dealer places the chips on the table. He will then spin the wheel and call out the winning number – you'll get a payout equal to the odds on your bet if you win, however you'll lose your stake if the winning number is different to the bet you have placed.
You don't have to bet on a single number (the odds are high at 35:1, usually) but you can also choose a combination, such as the Split (two numbers sitting next to each other, odds of 17:1), the Street (three numbers in one row, 11:1), the Corner (four separate numbers, 8:1), or a line (a bet on two rows and six numbers, 5:1). To play it even safer, the Outside Bets are more general bets with odds of 1:1, eg on Red or Black numbers, Odd or Even numbers, High or Low numbers (1-18 or 19-36). Dozens and Columns come with odds of 2:1 – both see you bet on 12 numbers in different locations of the table.
Where to play live roulette
Live roulette players – and others too – can play Live Roulette at Genesis Casino. Head to the Live Casino section and discover the many versions of Roulette at which you can play!